Dear Sis,
Happy New Year, darling!! Can you believe it's 2018?!
Neither can we. But, honey -- we are here for it!!
2017 was full of highs and lows. There were many periods of grief and sadness, but it's also the year we launched #amongsisters! And quite frankly, it's been our best decision yet!
Let us pause to thank you for supporting our vision and believing in our cause! You're a REAL one!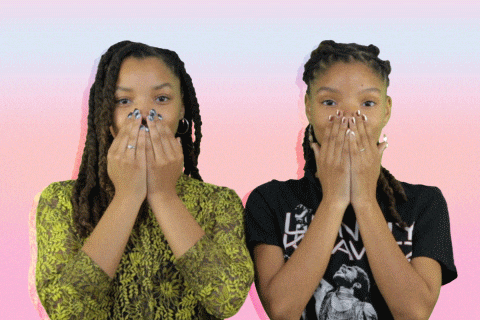 Now that we've lathered you in mushiness lol... It's time we pull up our sleeves and get down and dirty for 2018!
We'll skip the part where we charge you to grab a journal, set some goals and create a vision board, because you're our sister, and we know you've already done that! Right??
Instead we're going to talk about finesse.
Before we go any further... if the word "finesse" rings ZERO bells with you in 2018 -- lets just say you TRIED IT. Lol
For all our sisters in the back who've been living under a rock the last few days... let us get your WHOLE life. Ha!
Finesse is the name of Bruno Mars' latest hit. And a few days ago, he dropped a remix featuring our girl Cardi B!
Baaaaby, this is the epitome of feel good music! As soon as the first beat drops, the song makes you want to jump up and dance! And, the vibe instantaneously throws you into a positive mood. Okaaaaaay!!!! (in our Cardi B voice lol)
In the midst of reminiscing about the 90s with Bruno and Cardi, there's a lesson to be learned.
Here we are on the brink of what could be our BEST year yet. We've written down our goals, we've set out a plan and now it's time to finesse!
fi·nesse verb 1. to do (something) in a subtle and delicate manner.
Notice we're using the term finesse as a verb here. So, we're talking about actions while we transform our goals from paper to reality.
You see, creating a vision is easy. Almost anyone can dream up a perfect success. But, it takes guts, courage and perseverance to actually accomplish it.
So, how do we push through?
Well, first it takes honesty. Success is never perfect. It undoubtedly comes with highs and lows, unexpected twists and turns, mounds of frustration and plenty of worry. Why? Because that's life. But, when you dare to be innovative, you dare to be shaken.
So, since we know that stress is inevitable, and achievement won't be easy, it's important that we deprive stress of it's power NOW.
Don't allow the turbulence of your journey to distract you. Take a deep breath, think ahead, stay focused and enjoy growing in the process of achieving your goals!
Handle your dreams with care and intention, despite what the year may bring. Be passionate, be purposeful, but also dance in the midst!
That's what we call Finesse!
And, this doesn't just apply to career moves. You can finesse your way to a better YOU --mentally, physically and spiritually!
So, go on girl... drip in that finesse!! Let us know when you start crushing those goals in LIVING color!
We're rooting for you,
V + Lo